When Supply Creates its Own Demand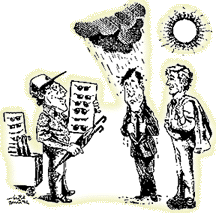 What's the real role of advertising?
To create
"ideas that inspire enduring belief"
as Mr. Leo Burnett once remarked? To create a
disruption in people's consumption habits
(it's a fact that a large part of our purchasing behaviour is habitual rather than considered). Forgive me such rhetorical question, but I've just been reading an interesting paper from the
Mercer Management Consulting
entitled
"Understanding Demand Before its too Late"
where it is stated that a large part of the new products marketers put in the market are bound to be unsuccessful due its "lack of demand". Thus a "demand estimate" is needed before putting new products in the market and also in order to strive against the competition attacks. Mercer seems to offers a solution based on "discrete choice modeling".
Here's the point I want to make, of course if you want to be successful in the market, if you want to make a buck or two and get some profit you'll have to meet people's need thus supplying an existing demand. Nevertheless there's much more to rely on advertising rather than just the common role of building brands & product awareness. More than informing consumers, advertising re-ensures current consumers and potential new-consumers that the need for product or brand "X" is there to be fulfilled. In the end
"supply creates its own demand"
with the "little" great help of advertising. This is in what the economists call the "Say's Law" in action. Advertising really understands the role of demand (in my opinion) much better than any other business model.